AICC Management Team
WHO RUNS AICC?
AICC is governed by a Council of Management who are Directors of AICC Ltd and are elected from amongst the full members of AICC.
Sarah Cowlrick
Chief Executive Officer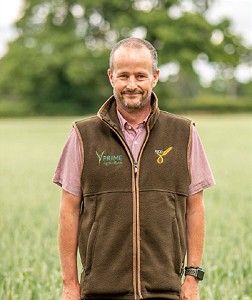 Andrew Blazey
Chairman
Executive Committee
Sarah Cowlrick (CEO)
Andrew Blazey (Chairman)
Sean Sparling (Immediate Past Chairman)
Patrick Stephenson (President)
George Green (Director for Scotland and Membership)
Trials R & D
Executive Trials Committee
Mike Thompson (Chairman) – Eastern
David Boulton (Chairman-Elect) - Central
John Clarke (Immediate Past Chairman/Eastern)
Peter Cowlrick – Southern
Trials Committee
Colin Woodward - Central
Peter Brumpton - Northern
Simon Senior – Northern
Ian Dalley – Scotland
David Lines – Western
Chloe Morgan - Western
Brett Pointing - Southern
Marion Self – Eastern
Trials Co-ordinator
Rosemary Hall
Honorary Members
Stephen Bond (Deceased)
Douglas Stevens
Alan J Bide (Deceased)
Peter Taylor (Immediate Past President)
Patrick Stephenson (President)
John Clarke (Immediate Past Trials Chairman)
Non-executive AICC representatives
Industry Technical Representation and Industry consultation submissions: Marion Self, Phil Humphrey, Jonathan Olver
DEFRA/ELM transition support: Andrew Wells
AICCA Training: Chris Tolley
Specialist Members: Jonathan Blake, ADAS and John Cussans, NIAB
Researcher Member: Chloe Morgan
Council of Management
CEO, Conference Manager and Company Secretary: Sarah Cowlrick
Directors:
Andrew Blazey (Eastern-South)
David Boulton (Central)
George Green (Scotland)
Dan Matthews (Western)
Chris Nottingham (Eastern-South)
Penny Oakes (Eastern-North)
Matthew Paterson (Eastern-South)
Sean Sparling (Northern)
Luke Wheeler (Central)
Southern Region Representative - Vacant
Observers:
Simon Roberts
Past Chairman
1981-82 Allan Lock
1983-84 Alan Bide
1985-86 Brian Beeney
1986-88 Dick Makepeace
1989-91 Diana Nettleton
1992-93 Peter Taylor
1994-95 Simon Draper
1996-97 Frank Smiley
1998-00 Peter Taylor
2001-03 Allen Scobie
2004-07 Patrick Stephenson
2008-10 Andrew Watson
2011-13 Mike Warner
2014-16 Patrick Stephenson
2017-22 Sean Sparling
Current Chairman
Andrew Blazey
Interested? Get in touch
We are here to help, engage & listen
FARMERS: Are you seeking truly transparent advice? Are you concerned about input spend? Contact us to find a crop consultant near you who only has one margin in mind – yours!
CONSIDERING MEMBERSHIP OF AICC? Contact us for details of how to apply and the criteria required. Join the largest group of independent agronomists in Europe and benefit from all it has to offer.
INDUSTRY PARTNERS: Would you like to reach 48% of the UK advice Market through our members? Exhibit at our national conference each year? Get in touch for more information on how to.
CONSIDERING A CAREER IN INDEPENDENT AGRONOMY: See our AICCA page
Become a member
AICC is the largest group of independent crop consultants in Europe and aims to continue to enhance its professional recognition throughout the agricultural industry, promote the interests of its members and encourage all truly independent crop consultants to become members.
Apply