News & Events
See our news stories below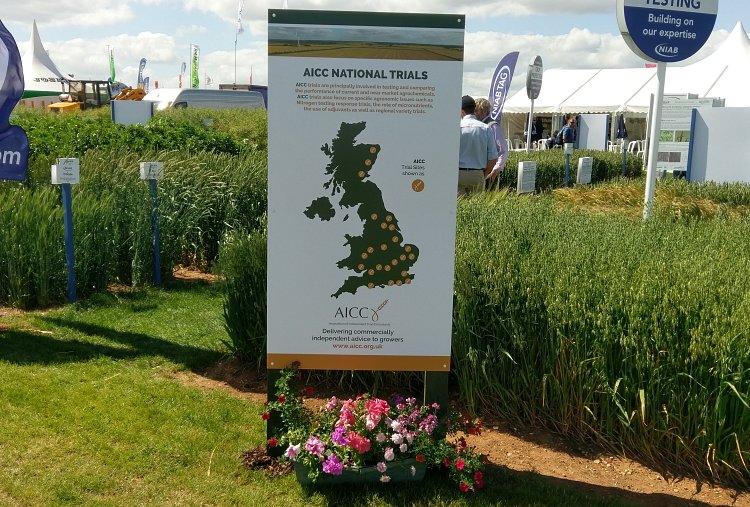 AICC showcases a focus on clients' margins at CEREALS 2018
07 May 2018
With approaching 50% of the UK's arable acres under the advice of an independent crop consultant, it is clear that the demand for independent agronomy is stronger than ever. Access to extensive independent trials results and innovative technology that have no commercial bias, is key to being at the forefront of delivering this technical excellence.
"As an Association, the AICC conduct a series of national field trials that are principally involved in testing and comparing the performance of current and near market agrochemicals. This ensures that our crop consultants are able to make well informed, cost-effective, technical recommendations for their farmer clients," says AICC CEO, Sarah Cowlrick.
"Independent crop consultants have always recognised that the control of costs and the management of inputs are crucial to both the crop and the client," says Sean Sparling, chairman of AICC.
"This is nothing new for AICC members who tailor their recommendations to deal with the situation at hand, rather than adopting a broad-brush approach. The clients' margin is our only focus, therefore only those inputs necessary to achieve the best margin for the grower are considered,"
"As an industry we now find ourselves increasingly under scrutiny as we head towards a very uncertain future once we leave the EU in March 2019, and how we work with growers to tailor costs without compromising yields and quality will be a key focus for us at the Cereals Event, and we invite visitors to the stand at any point across the two days of the Event to find out more."
Also on offer from AICC at Cereals
Benchmarking Survey: Since 1992, Gary Markham has produced the Rural Business Survey using the annual results from clients' farming businesses. In 2017, the report highlighted that the top 25% of profitable businesses in the East used the services of an Independent Agronomist. Gary will be available at 2pm each day.
Alternative and spring crop options: Come along and speak to our leading consultants on how to adopt a sensible approach to spring and alternative cropping options.
The Independent Agronomist Magazine: Our latest issue will be available from the AICC stand which includes technical viewpoints from members, more information about what truly independent agronomy means and how it can support your business.
AICC Crop App: The latest features of the AICC Crop App will be on display on the stand illustrating the latest technology for providing data on crop development for members clients fields. This tool enables AICC members to offer a further service to clients and will provide a reliable source of information on current cropping and rotations which we can use to further develop the service.
Back to News
Interested? Get in touch
We are here to help, engage & listen
FARMERS: Are you seeking truly transparent advice? Are you concerned about input spend? Contact us to find a crop consultant near you who only has one margin in mind – yours!
CONSIDERING MEMBERSHIP OF AICC? Contact us for details of how to apply and the criteria required. Join the largest group of independent agronomists in Europe and benefit from all it has to offer.
INDUSTRY PARTNERS: Would you like to reach 48% of the UK advice Market through our members? Exhibit at our national conference each year? Get in touch for more information on how to.
CONSIDERING A CAREER IN INDEPENDENT AGRONOMY: See our AICCA page
Become a member
AICC is the largest group of independent crop consultants in Europe and aims to continue to enhance its professional recognition throughout the agricultural industry, promote the interests of its members and encourage all truly independent crop consultants to become members.
Apply