News & Events
See our news stories below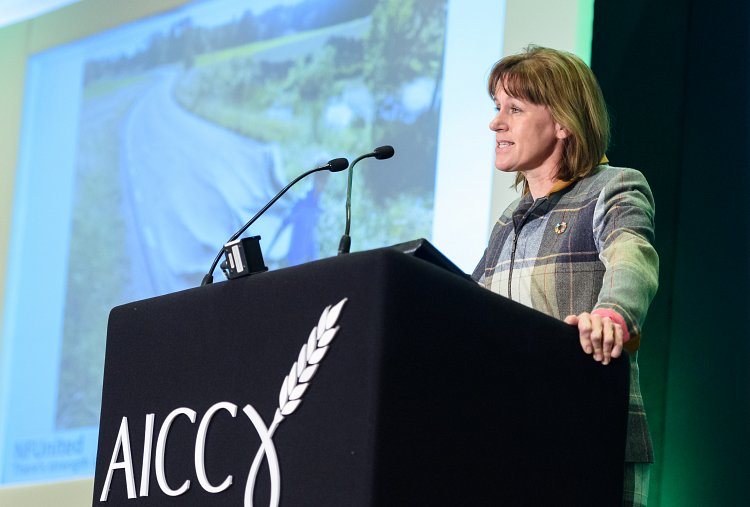 AICC CONFERENCE 2019 - Minette Batters, NFU President
22 January 2019
Green farming policy will put IPM at the heart of crop production
Integrated pest management (IPM) will play increasing role in UK crop production post-Brexit and independent agronomists are leading the way in its implementation on farm.
Speaking at the recent Association of Independent Crop Consultants (AICC) Conference near Towcester, NFU president Minette Batters warned delegates that 42% of farm businesses will be loss making if direct payments are lost after the UK leaves the EU.
Farm output will need to be raised by 10% or more to counter this effect, but Defra secretary Michael Gove's focus to deliver a "Green Brexit", with less emphasis on food production, could restrict the arable sector's ability to do so.
Whatever final details of any future agricultural policy holds, increasing output will have to be done in an environmentally sensitive way, with IPM an integral part, according to Ms Batters.
IPM is a practice based on prevention, monitoring and control of damaging organisms using a range of cultural and biological methods, using of plant protection products only when absolutely necessary.
She added that influencing outside views on the use of these vital tools will be important, putting safe and responsible use at the forefront of public perception.
"I have been very keen that the cropping sector looks at what the livestock sector has done with RUMA, which has been about responsible use of medicines and antibiotics.
"This isn't about using less [inputs], this is about us as an industry being transparent and having an evidence base [for use] and I think that will become more and more important," said Ms Batters.
Back to News
Interested? Get in touch
We are here to help, engage & listen
FARMERS: Are you seeking truly transparent advice? Are you concerned about input spend? Contact us to find a crop consultant near you who only has one margin in mind – yours!
CONSIDERING MEMBERSHIP OF AICC? Contact us for details of how to apply and the criteria required. Join the largest group of independent agronomists in Europe and benefit from all it has to offer.
INDUSTRY PARTNERS: Would you like to reach 48% of the UK advice Market through our members? Exhibit at our national conference each year? Get in touch for more information on how to.
CONSIDERING A CAREER IN INDEPENDENT AGRONOMY: See our AICCA page
Become a member
AICC is the largest group of independent crop consultants in Europe and aims to continue to enhance its professional recognition throughout the agricultural industry, promote the interests of its members and encourage all truly independent crop consultants to become members.
Apply