News & Events
See our news stories below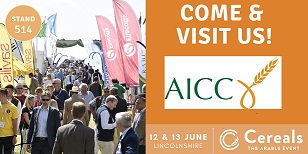 AICC AT CEREALS 2019
15 May 2019
AICC, who represent approaching 50% of the UK Market share in arable advice on farm will be show casing independent agronomy and how engaging the services of an AICC member will benefit your business.
The results of the national survey conducted by AICC on the impact of CSFB damage on Oilseed Rape will be available and expert, truly independent agronomists will be on hand to discuss all aspects of agronomy going forward.
The IPM theme from the AICC Conference will be one of the main features at CEREALS. AICC members are proactive in the practice of IPM, with regular contact between groups and individual members across the UK discussing approaches to controlling current pest, weed and disease problems daily. They will be demonstrating how Integrated pest management will play increasing role in UK crop production post-Brexit and how independent agronomists are leading the way in its implementation on farm.
Back to News
Interested? Get in touch
We are here to help, engage & listen
FARMERS: Are you seeking truly transparent advice? Are you concerned about input spend? Contact us to find a crop consultant near you who only has one margin in mind – yours!
CONSIDERING MEMBERSHIP OF AICC? Contact us for details of how to apply and the criteria required. Join the largest group of independent agronomists in Europe and benefit from all it has to offer.
INDUSTRY PARTNERS: Would you like to reach 48% of the UK advice Market through our members? Exhibit at our national conference each year? Get in touch for more information on how to.
CONSIDERING A CAREER IN INDEPENDENT AGRONOMY: See our AICCA page
Become a member
AICC is the largest group of independent crop consultants in Europe and aims to continue to enhance its professional recognition throughout the agricultural industry, promote the interests of its members and encourage all truly independent crop consultants to become members.
Apply