News
See our news stories below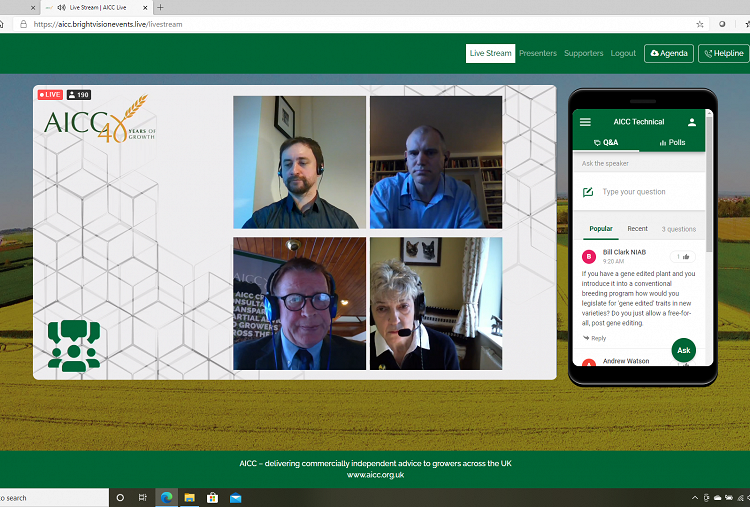 AICC CONFERENCE - PLANT BREEDING SESSION - Future genetic solutions
14 January 2021
Climate change, Brexit and a new domestic agricultural policy seeking to balance the environment and food production are all disruptive factors, noted Rothamsted Research director and chief executive Professor Angela Karp, opening the event. There is no clear route map for achieving the new government policy, but R&D will be critical in meeting it, she stated.
Gene-editing is only the latest in a series of genetic advances over the last 90 years that have included dwarf wheats that could cope with higher rates of nitrogen and hybrid maize and oilseed varieties, all of which increased yields, Prof Karp continued. Gene editing has the potential to shorten the lag between disease pathogen evolution and varietal resistance unless regulation slows its adoption. At the same time, agritech advances in the fields of data, IT, robotics and digitalisation are changing both food production and markets.
The challenge is to use crop inputs more efficiently by moving from generic to precisely targeted applications, reducing resource use and environmental damage; using automation to reduce the size of farm machinery; and increasing efficiency in the food system. The latter needs more emphasis on food quality, not quantity, to improve nutrition and health outcomes while leaving less productive areas for regenerative and biodiverse farming.
Gene editing has the potential to help meet these goals by increasing output of food and fibre from the sam amount of land, using less resource and providing public goods – optimising productivity both above and below ground, Prof Karp concluded. But the industry needs to fully engage with the wider consuming public over the adoption of such technologies, to show how they can benefit society.
Prof Karp's Rothamsted colleague Dr Vladimir Nekrasov described consumer benefits from gene-edited traits including increasing the stability and shelf life of soybean and rapeseed cooking oils and reducing acrylamide, a carcinogen, in fried potatoes. Chinese researchers are looking to increase mildew resistance and specific weight characters in wheat, he advised. But the key to its wider adoption in Europe is to move to a product-based, rather than technology-based regulatory system, as practised in the US, South America and Australasia, said Dr Nekrasov. Is Brexit the chance to move away from the EU's technology-based approach?
Head of cereal pre-breeding at NIAB, Dr Phil Howell, observed that gene-editing technologies are in its infancy – they are less than 10 years old and improving all the time. He cited promising crop applications such as the Calyxt high oleic soybean oil, now licenced to ADM; a sulfonyl urea resistant canola variety in Canada; and Pioneer's work on a waxy hybrid corn variety. Other projects include a new GM wheat incorporating sunflower genes to lift drought tolerance, and Japanese research into gene-edited tomato able to reduce the blood pressure of its consumer.
Whereas GM technologies are only available to multinational companies with substantial R&D resources, GE promises to be a more disruptive technology as it is within the means of many smaller companies, Dr Howell concluded. But it needs a 'light touch' regulation if its potential is to be maximised.
Reference : Jamie Day, Agri-Trade News
Back to News
Interested? Get in touch
We are here to help, engage & listen
FARMERS: Are you seeking truly transparent advice? Are you concerned about input spend? Contact us to find a crop consultant near you who only has one margin in mind – yours!
CONSIDERING MEMBERSHIP OF AICC? Contact us for details of how to apply and the criteria required. Join the largest group of independent agronomists in Europe and benefit from all it has to offer.
INDUSTRY PARTNERS: Would you like to reach 48% of the UK advice Market through our members? Exhibit at our national conference each year? Get in touch for more information on how to.
CONSIDERING A CAREER IN INDEPENDENT AGRONOMY: See our AICCA page
Become a member
AICC is the largest group of independent crop consultants in Europe and aims to continue to enhance its professional recognition throughout the agricultural industry, promote the interests of its members and encourage all truly independent crop consultants to become members.
Apply