News
See our news stories below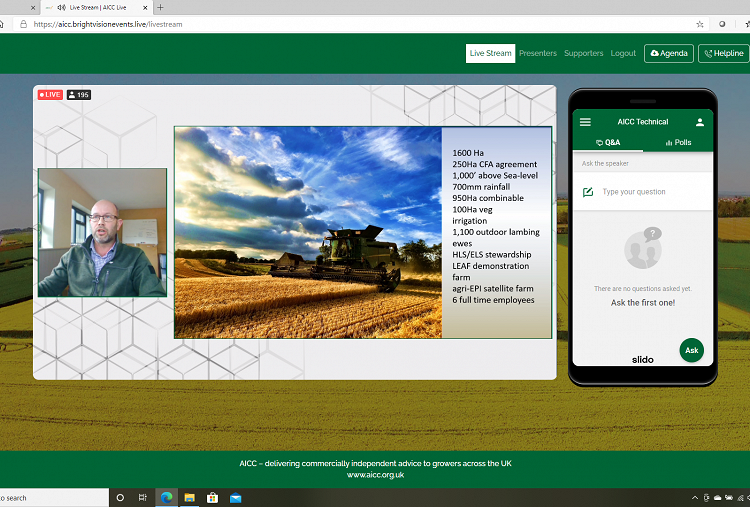 AICC CONFERENCE 2021 REGEN AG SESSION HIGHLIGHTS
25 January 2021
Delegates heard from two experienced protagonists of regenerative agriculture in Overbury Estates' Jake Freestone and TWB Farms' Clive Bailye, who like Andy are reducing reliance on synthetic inputs. Both are several years into implementing a regenerative system that aims to improve soil health through a range of means, including more diverse rotations, no-till crop establishment and cover crops. Their systems are seen by many as a future blueprint for combinable crop production in the UK.
Clive said as well as improving soil health and resilience, which underpins any regenerative system, he has also focussed on net margin, rather than gross margin which tends to lean towards high inputs for high output. Lowering fixed costs and capital expenditure has ultimately resulted in a more profitable operation and he has achieved this while maintaining yields of crops across the rotation. Jake has established a similar system on the Cotswold estate on the Worcestershire-Gloucestershire border, but is always looking to develop and improve it further.
In the future he is looking to reduce nitrogen fertiliser use further through the use of biological products and organic matter improvement or applications. He is also aiming to improve livestock integration across the estate and look at ways of improving landscape biodiversity with practices such as agro-forestry. Carbon capture is also an interesting area which many hope will develop into a market for additional farm income and the estate will look to get involved in any schemes that may arise.
The transition into such a system requires different skills and knowledge to more conventional arable production and he noted the key role AICC advisers like his own adviser – Indigro's Rob Ding – will have in helping steer clients through the process.
"You need to be prepared to learn constantly, whether through events, social media or webinars…Never be afraid to try anything new," he said.
Back to News
Interested? Get in touch
We are here to help, engage & listen
FARMERS: Are you seeking truly transparent advice? Are you concerned about input spend? Contact us to find a crop consultant near you who only has one margin in mind – yours!
CONSIDERING MEMBERSHIP OF AICC? Contact us for details of how to apply and the criteria required. Join the largest group of independent agronomists in Europe and benefit from all it has to offer.
INDUSTRY PARTNERS: Would you like to reach 48% of the UK advice Market through our members? Exhibit at our national conference each year? Get in touch for more information on how to.
CONSIDERING A CAREER IN INDEPENDENT AGRONOMY: See our AICCA page
Become a member
AICC is the largest group of independent crop consultants in Europe and aims to continue to enhance its professional recognition throughout the agricultural industry, promote the interests of its members and encourage all truly independent crop consultants to become members.
Apply